Opportunities
Foreclosure Data
Education
More...
Sign Up Now!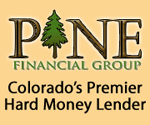 100% fix and flip funding, bridge loans and Non recourse IRA loans. More »
Sign Up For A Class
Full A-Z class or continuing education classes for licensed brokers... More »
Client Testimonials
"If you only have 2 hours take the "Finding Deals Before, At, and After the Foreclosure Auction", it was well worth cost to me."
— Darren F., Cherry Creek Properties